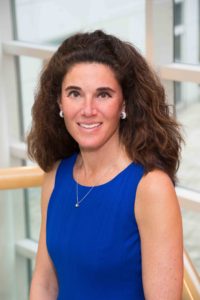 JILL BARNHOLTZ-SLOAN, PH.D.
Associate Director for Clinical Informatics
Dr. Jill Barnholtz-Sloan, Ph.D., is the Sally S. Morley Designated Professor in Brain Tumor Research in the Case Comprehensive Cancer Center.  Her research focuses on genetic/molecular epidemiology of complex diseases, with a particular focus on cancer.  She is multi-disciplinary trained in biostatistics, population genetics, and human genetics, and has rich experience in multi-center cancer studies.  The main thrust of her research is two-fold: (1) as an integral biostatistical/epidemiological co-investigator on multiple externally funded studies (i.e. "team science") and (2) as an independent brain tumor researcher and collaborator.  She is the Associate Director for Bioinformatics for the Case Comprehensive Cancer Center and the Associate Director for Clinical Informatics for the Institute for Computational Biology. 
In her role as a team scientist, Dr. Barnholtz-Sloan is sought for her biostatistical/bioinformatics expertise and collaborate on studies as the expert in these disciplines.  She assists investigators with robust study design, data analysis and interpretation of results.  At the core of her independent research efforts is her work on utilizing genomic information on brain tumors to better sub-classify these tumors and associate this information with clinical outcomes.  Because brain tumors are a rare cancer (representing only 1-2% of all adult cancers), multi-center projects are necessary in order to have the samples size needed for appropriate statistical power.  Since coming to CWRU, she has successfully established a multi-center biorepository network within Ohio, the Ohio Brain Tumor Study (OBTS), which has served as a multi-site tissue source site for The Cancer Genome Atlas and currently serves as a multi-site therapeutic clinical trial network for the Governor's Ohio Clinical Trials Collaborative. 
Featured Publications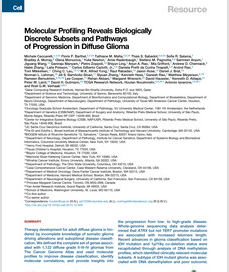 Ceccarelli M, Barthel FP, Malta TM, Sabedot TS, Salama SR, Murray BA, Morozova O, Newton Y, Radenbaugh A, Pagnotta SM, Anjum S, Wang J, Manyam G, Zoppoli P, Ling S, Rao AA, Grifford M, Cherniack AD, Zhang H, Poisson L, Carlotti CG, Tirapelli DP, Rao A, Mikkelsen T, Lau CC, Yung WK, Rabadan R, Huse […]