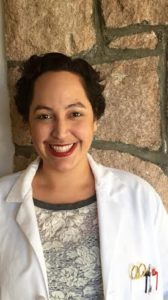 Michelle Hernandez, PhD
New York University School of Medicine
Tuxedo, NY
World Trade Center-derived inflammation and oxidative stress in nasal, neural, and pulmonary tissues
Michelle Hernandez, Karen Galdanes, Andrea Harrington, Joshua Vaughan, Dana Lauterstein, Ethan Sebasco, Terry Gordon, Lung-Chi Chen.
New York University School of Medicine, Tuxedo, NY.
Currently, there is an overall lack of scientific data with regard to World Trade Center particulate matter (WTCPM) exposure and its inflammatory/oxidative potential. This study evaluated intranasally administered WTCPM<53µm-derived oxidative stress in primary and secondary targets. Male 12 - 15 week old C57Bl/6 mice were acutely exposed to 1 mg/50 µl WTCPM via intranasal instillation, with significantly observed polymorphonuclear neutrophil (PMN) responses ranging from 20 to 30% in both nasal and bronchoalveolar lavage fluids. Repeated acute intranasal exposures at 1 mg, 0.5 mg, and 0.25 mg/ 50 µl WTCPM resulted in significant PMN influx (12 to 30%) in lower and upper respiratory tracts. Most significantly, expression in APP (3.8-fold) and antioxidant genes Prdx2 (5.8-fold) and Txnrd6 (5.9-fold) were found to be up regulated in olfactory bulbs of acutely exposed mice 24 hours and 7 days post exposure. SOD-2 was found to be significantly down regulated in the olfactory epithelium, while HO-1 and SOD-2 were equally down regulated in pulmonary tissues after acute repeat exposures at varying doses of WTCPM. In a co-exposure scenario, mice were intranasally treated with 10 ng/10 µl LPS, 1 mg/50 µl WTCPM, or 10 ng/10 µl LPS + 1 mg/50 µl WTCPM, whereby WTCPM was found to significantly potentiate LPS exposure in upper and lower airways (30 - 35% PMN increase), as well as SOD-2 downregulation in pulmonary tissues. These data suggest WTCPM exposure propagates intracellular antioxidant proteins in neural tissues, while concurrently down regulating antioxidant responses in the nose and lung. These novel findings may be due to WTCPM composition (pH, metals, and silica) or potential particle translocation, further potentiating environmentally induced injuries/ diseases brought about by repetitive insult from ambient pollutants.
Washington, DC, October 29-31, 2015