Our Research
We advance the understanding of human health and biology through novel computational methods applied to large and diverse datasets.
We lead and collaborate in national and international research, advise at the highest levels of government and academia, and actively seek collaborations, recognizing the value and impact of team science.
Our researchers have collectively published more than 1,000 papers in scholarly journals in a wide range of scientific fields.  The National Library of Medicine assigns Medical Subject Heading (MeSH) terms to all biomedical publications - the graph to the right shows the breakdown of MeSH terms for our institute publications.  Links to many of our publications can be found below.
Featured Publications
You can sort our publications by the following MeSH terms:
All
Adult
Aged
Computational Biology
Female
Genetic Predisposition to Disease
Genome, Human
Genome-Wide Association Study
Genomics
Genotype
Humans
Linkage Disequilibrium
Middle Aged
Phenotype
Polymorphism, Single Nucleotide
Risk Factors
Software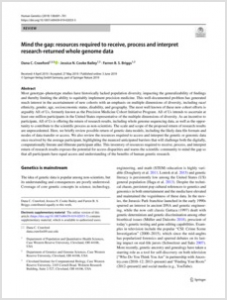 Mind the gap: resources required to receive, process and interpret research-returned whole genome data.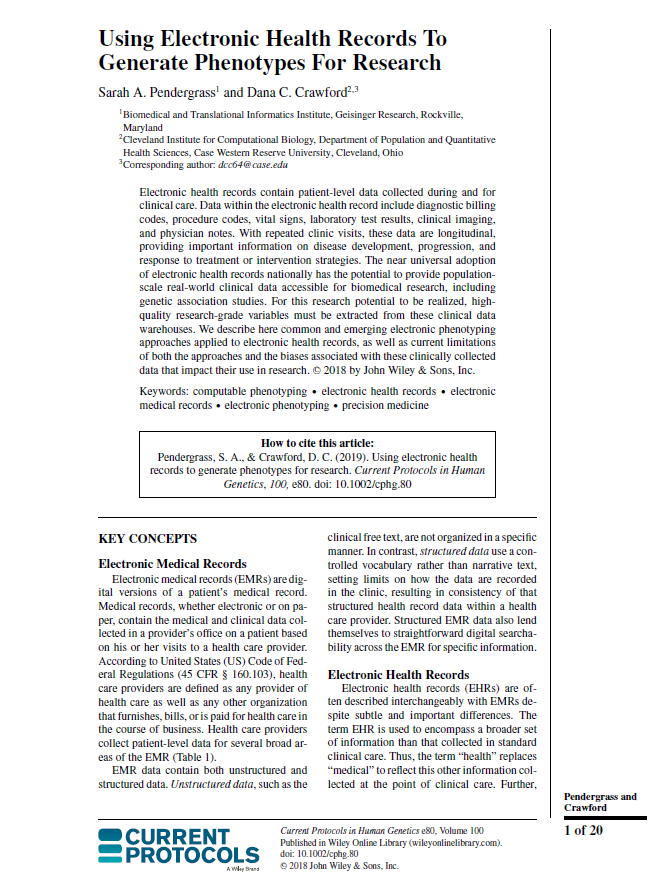 Using Electronic Health Records to Generate Phenotypes for Research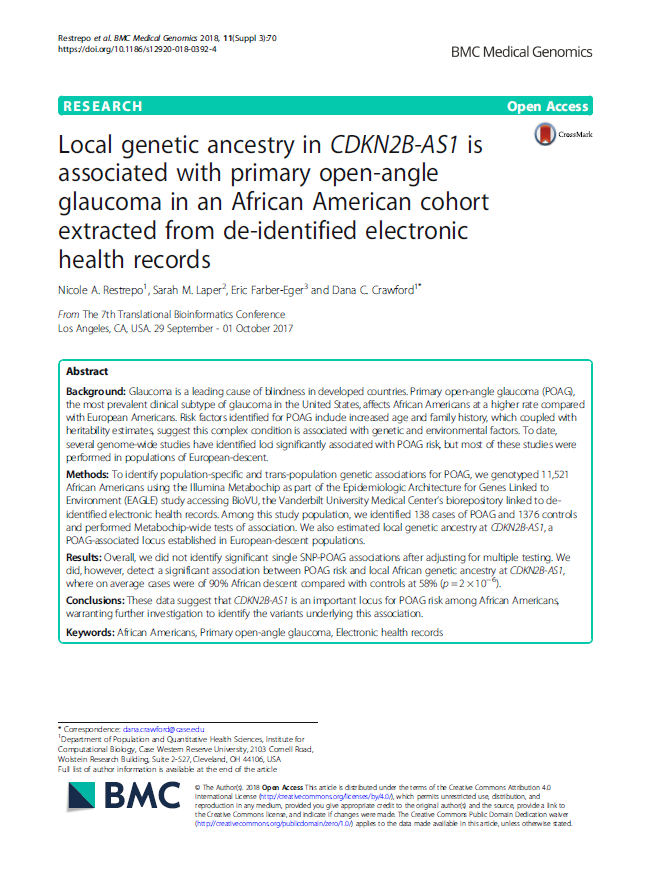 Local genetic ancestry in CDKN2B-AS1 is associated with primary open-angle glaucoma in an African American cohort extracted from de-identified electronic health records.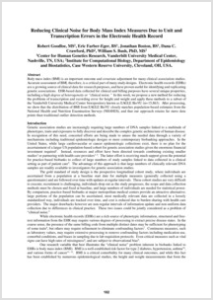 Reducing Clinical Noise for Body Mass Index Measures Due to Unit and Transcription Errors in the Electronic Health Record.
Early-Onset Alzheimer Disease and Candidate Risk Genes Involved in Endolysosomal Transport.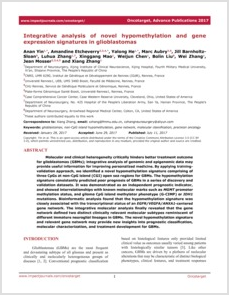 Integrative analysis of novel hypomethylation and gene expression signatures in glioblastomas.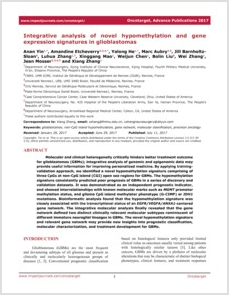 Integrative analysis of novel hypomethylation and gene expression signatures in glioblastomas.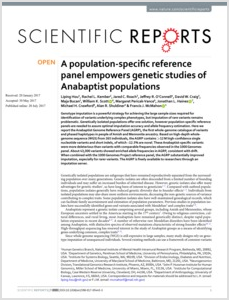 A population-specific reference panel empowers genetic studies of Anabaptist populations.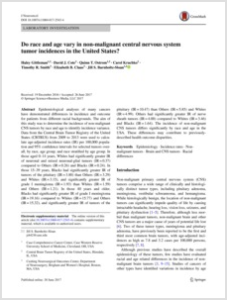 Do race and age vary in non-malignant central nervous system tumor incidences in the United States?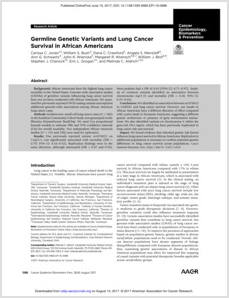 Germline Genetic Variants and Lung Cancer Survival in African Americans.
Fine-mapping of lipid regions in global populations discovers ethnic-specific signals and refines previously identified lipid loci.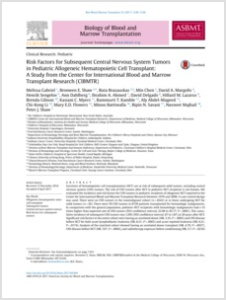 Risk Factors for Subsequent Central Nervous System Tumors in Pediatric Allogeneic Hematopoietic Cell Transplant: A Study from the Center for International Blood and Marrow Transplant Research (CIBMTR).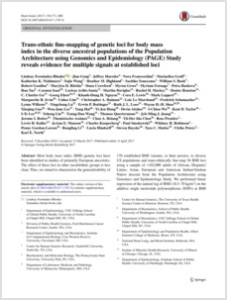 Trans-ethnic fine-mapping of genetic loci for body mass index in the diverse ancestral populations of the Population Architecture using Genomics and Epidemiology (PAGE) Study reveals evidence for multiple signals at established loci.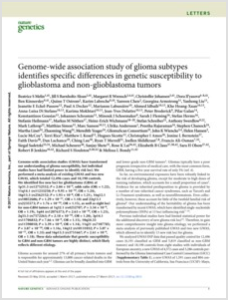 Genome-wide association study of glioma subtypes identifies specific differences in genetic susceptibility to glioblastoma and non-glioblastoma tumors.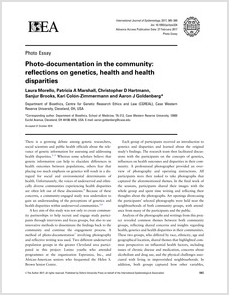 Photo-documentation in the community: reflections on genetics, health and health disparities.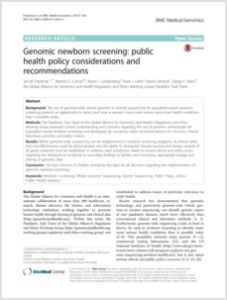 Genomic newborn screening: public health policy considerations and recommendations.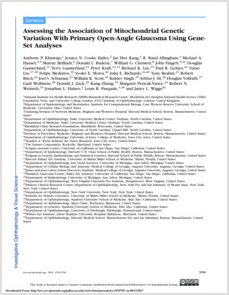 Assessing the Association of Mitochondrial Genetic Variation With Primary Open-Angle Glaucoma Using Gene-Set Analyses.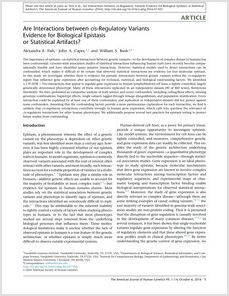 Are Interactions between cis-Regulatory Variants Evidence for Biological Epistasis or Statistical Artifacts?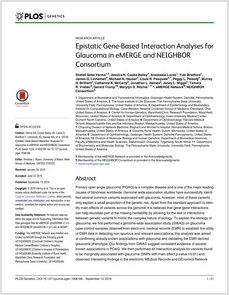 Epistatic Gene-Based Interaction Analyses for Glaucoma in eMERGE and NEIGHBOR Consortium.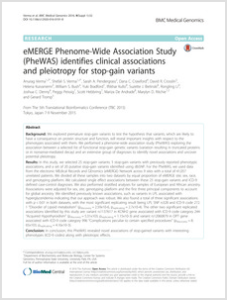 eMERGE Phenome-Wide Association Study (PheWAS) identifies clinical associations and pleiotropy for stop-gain variants.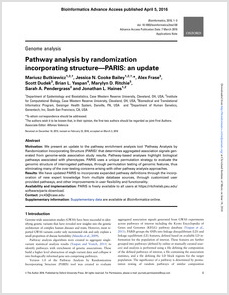 Pathway analysis by randomization incorporating structure-PARIS: an update.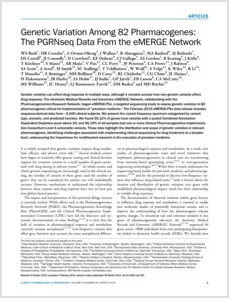 Genetic variation among 82 pharmacogenes: The PGRNseq data from the eMERGE network.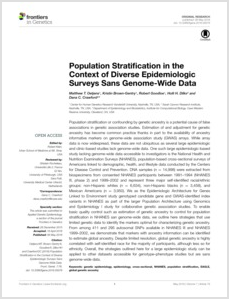 Population Stratification in the Context of Diverse Epidemiologic Surveys Sans Genome-Wide Data.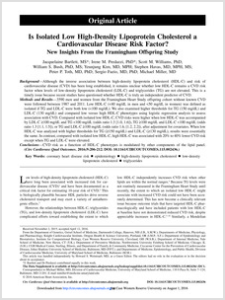 Is Isolated Low High-Density Lipoprotein Cholesterol a Cardiovascular Disease Risk Factor? New Insights From the Framingham Offspring Study.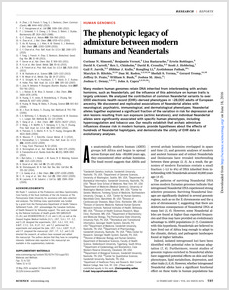 The phenotypic legacy of admixture between modern humans and Neandertals.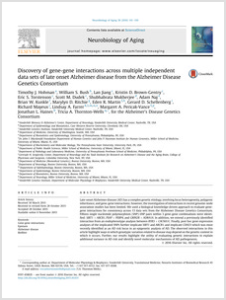 Discovery of gene-gene interactions across multiple independent data sets of late onset Alzheimer disease from the Alzheimer Disease Genetics Consortium.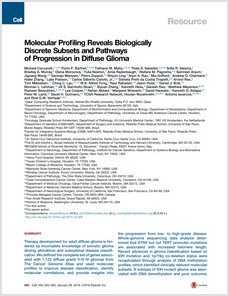 Molecular Profiling Reveals Biologically Discrete Subsets and Pathways of Progression in Diffuse Glioma.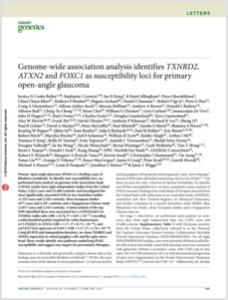 Genome-wide association analysis identifies TXNRD2, ATXN2 and FOXC1 as susceptibility loci for primary open-angle glaucoma.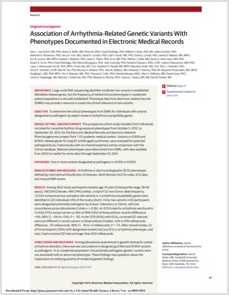 Association of Arrhythmia-Related Genetic Variants With Phenotypes Documented in Electronic Medical Records.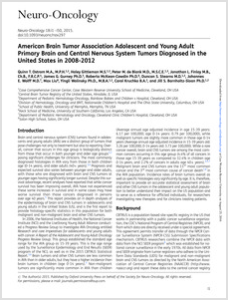 American Brain Tumor Association Adolescent and Young Adult Primary Brain and Central Nervous System Tumors Diagnosed in the United States in 2008-2012.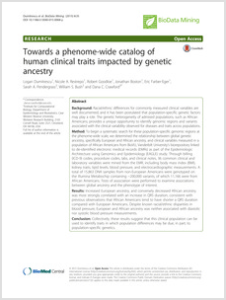 Towards a phenome-wide catalog of human clinical traits impacted by genetic ancestry.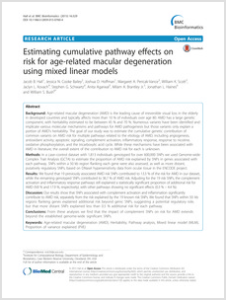 Estimating cumulative pathway effects on risk for age-related macular degeneration using mixed linear models.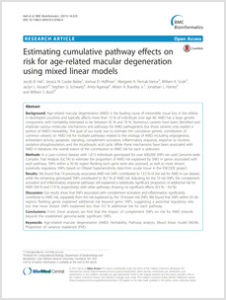 Estimating cumulative pathway effects on risk for age-related macular degeneration using mixed linear models.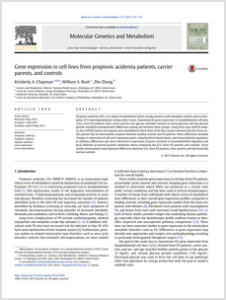 Gene expression in cell lines from propionic acidemia patients, carrier parents, and controls.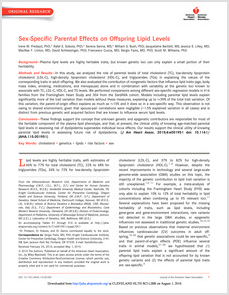 Sex-Specific Parental Effects on Offspring Lipid Levels.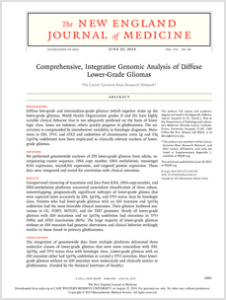 Comprehensive, Integrative Genomic Analysis of Diffuse Lower-Grade Gliomas.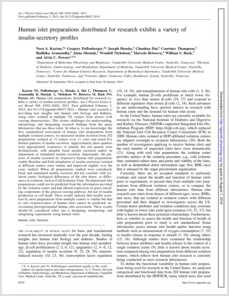 Human islet preparations distributed for research exhibit a variety of insulin-secretory profiles.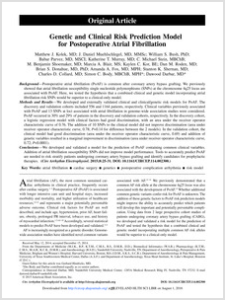 Genetic and clinical risk prediction model for postoperative atrial fibrillation.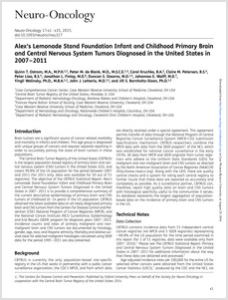 Alex's Lemonade Stand Foundation Infant and Childhood Primary Brain and Central Nervous System Tumors Diagnosed in the United States in 2007-2011.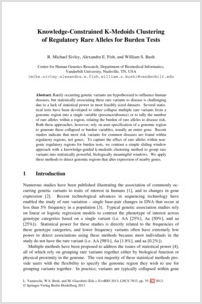 Knowledge-constrained K-medoids Clustering of Regulatory Rare Alleles for Burden Tests.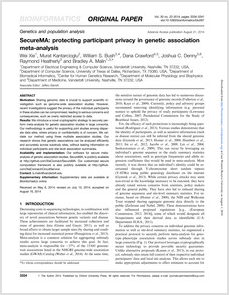 SecureMA: protecting participant privacy in genetic association meta-analysis.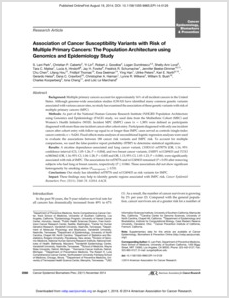 Association of cancer susceptibility variants with risk of multiple primary cancers: The population architecture using genomics and epidemiology study.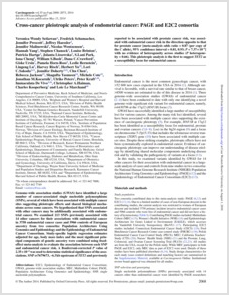 Cross-cancer pleiotropic analysis of endometrial cancer: PAGE and E2C2 consortia.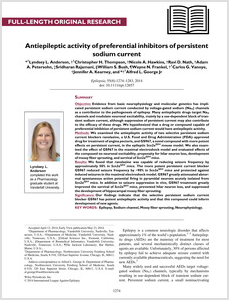 Antiepileptic activity of preferential inhibitors of persistent sodium current.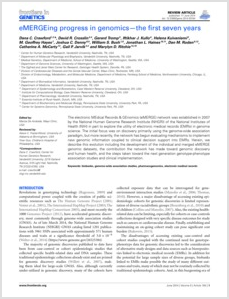 eMERGEing progress in genomics-the first seven years.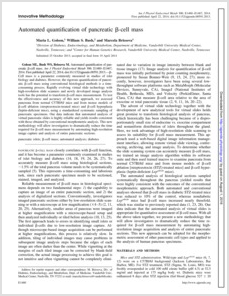 Automated quantification of pancreatic β-cell mass.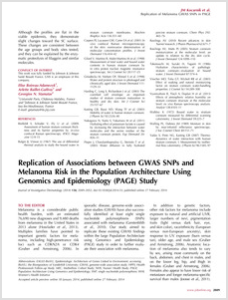 Replication of associations between GWAS SNPs and melanoma risk in the Population Architecture Using Genomics and Epidemiology (PAGE) Study.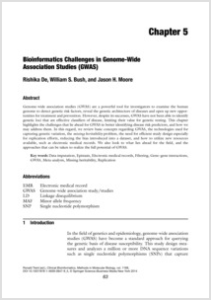 Bioinformatics challenges in genome-wide association studies (GWAS).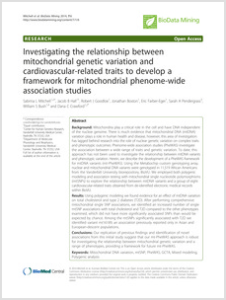 Investigating the relationship between mitochondrial genetic variation and cardiovascular-related traits to develop a framework for mitochondrial phenome-wide association studies.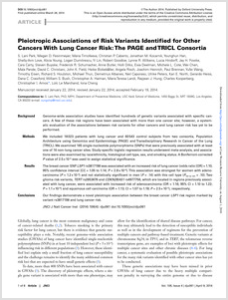 Pleiotropic associations of risk variants identified for other cancers with lung cancer risk: the PAGE and TRICL consortia.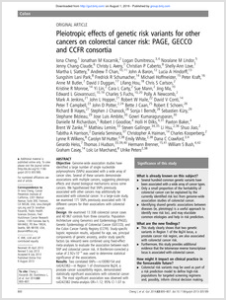 Pleiotropic effects of genetic risk variants for other cancers on colorectal cancer risk: PAGE, GECCO and CCFR consortia.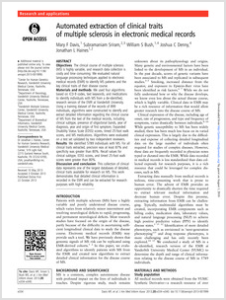 Automated extraction of clinical traits of multiple sclerosis in electronic medical records.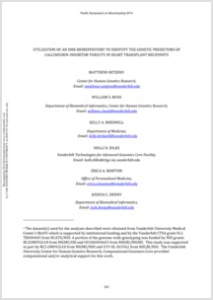 Utilization of an EMR-biorepository to identify the genetic predictors of calcineurin-inhibitor toxicity in heart transplant recipients.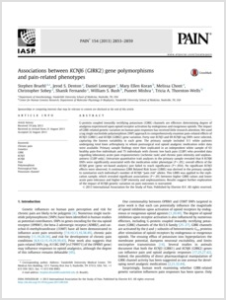 Associations between KCNJ6 (GIRK2) gene polymorphisms and pain-related phenotypes.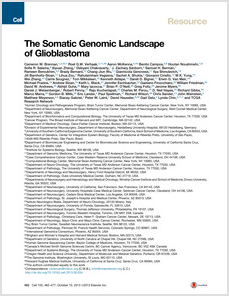 The somatic genomic landscape of glioblastoma.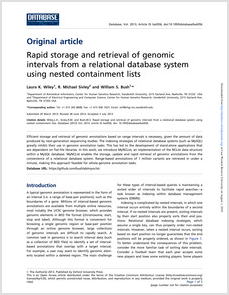 Rapid storage and retrieval of genomic intervals from a relational database system using nested containment lists.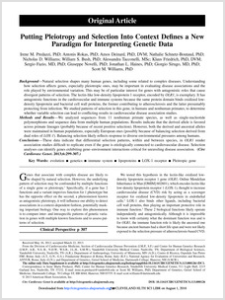 Putting pleiotropy and selection into context defines a new paradigm for interpreting genetic data.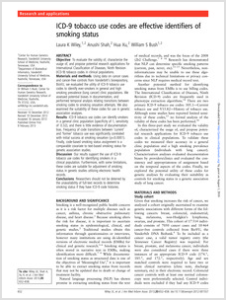 ICD-9 tobacco use codes are effective identifiers of smoking status.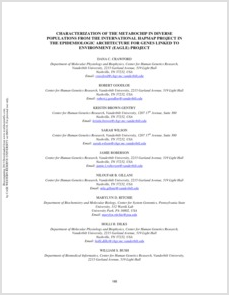 Characterization of the Metabochip in diverse populations from the International HapMap Project in the Epidemiologic Architecture for Genes Linked to Environment (EAGLE) project.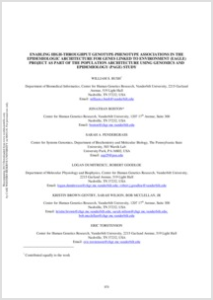 Enabling high-throughput genotype-phenotype associations in the Epidemiologic Architecture for Genes Linked to Environment (EAGLE) project as part of the Population Architecture using Genomics and Epidemiology (PAGE) study.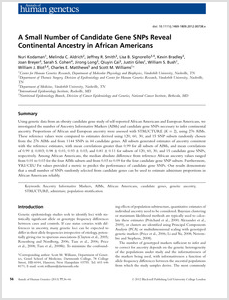 A small number of candidate gene SNPs reveal continental ancestry in African Americans.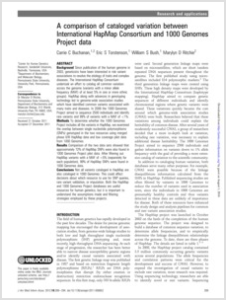 A comparison of cataloged variation between International HapMap Consortium and 1000 Genomes Project data.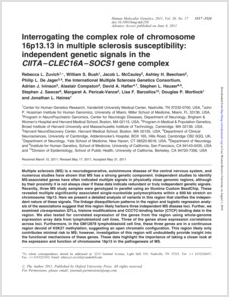 Interrogating the complex role of chromosome 16p13.13 in multiple sclerosis susceptibility: independent genetic signals in the CIITA-CLEC16A-SOCS1 gene complex.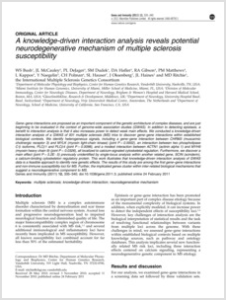 A knowledge-driven interaction analysis reveals potential neurodegenerative mechanism of multiple sclerosis susceptibility.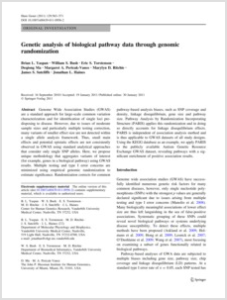 Genetic analysis of biological pathway data through genomic randomization.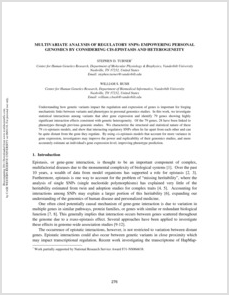 Multivariate analysis of regulatory SNPs: empowering personal genomics by considering cis-epistasis and heterogeneity.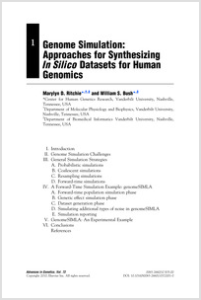 Genome simulation approaches for synthesizing in silico datasets for human genomics.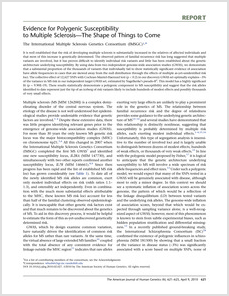 Evidence for polygenic susceptibility to multiple sclerosis--the shape of things to come.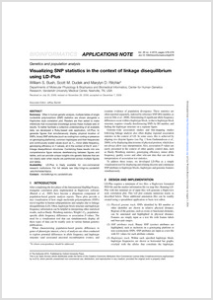 Visualizing SNP statistics in the context of linkage disequilibrium using LD-Plus.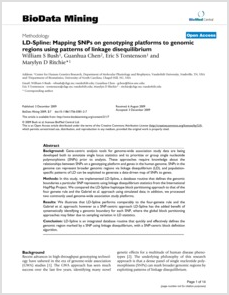 LD-spline: mapping SNPs on genotyping platforms to genomic regions using patterns of linkage disequilibrium.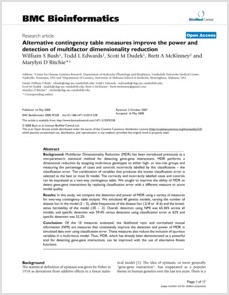 Alternative contingency table measures improve the power and detection of multifactor dimensionality reduction.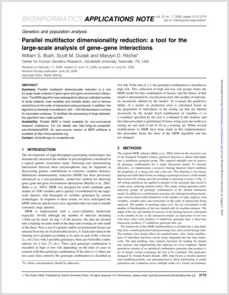 Parallel multifactor dimensionality reduction: a tool for the large-scale analysis of gene-gene interactions.