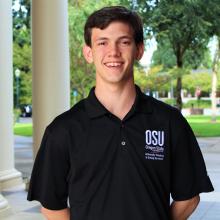 Nicholas Carleson
Oregon State University
Corvallis, OR
Gene Duplication, Pathogenicity, and Genome Plasticity of Phytophthora ramorum

Nicholas Carleson*1; Brian Knaus1; Meredith Larsen2; Caroline Press2 and Niklaus Grünwald2, (1)Oregon State University, Department of Botany and Plant Pathology, (2)Horticultural Crops Research Laboratory, United States Department of Agriculture, Agricultural Research Service
Clonally reproducing plant pathogens, that do not exhibit recombination to increase or maintain genetic diversity, must rely on genome plasticity and other mechanisms to adapt to environmental changes, such as different hosts. The oomycete pathogen Phytophthora ramorum has emerged repeatedly over the last 30 years, infecting woody hosts in forests and nurseries of North America and Europe, resulting in extensive management costs and losses despite clonality. In 2006, the Joint Genome Institute (JGI) sequenced the P. ramorum genome (isolate Pr-102) and reported that effectors, genes that suppress host immune response and contribute to pathogenicity, were localized in repeat-rich genomic regions, while housekeeping genes were located in separate, gene-dense regions. To explore this unique genome compartmentalization, we re-sequenced the Pr-102 genome using PacBio long-read technology. RXLR-class effectors from each genome were predicted and clustered to identify orthologous genes. We report a gapless P. ramorum assembly (Ns: 0, length: 75,183,546 bp, N50: 1,287,631), substantially improving the previous assembly (Ns: 12,227,865, length: 66,652,401 bp, N50: 308,042). We found 475 RXLRs in the PacBio genome, 410 of which align to all 322 RXLRs found in the JGI genome (BLAST e-value: 1e-4), leaving 65 novel RXLRs in the PacBio genome. Orthology analysis determined there were more than double the number of orthogroups with at least three genes compared to the JGI assembly, and more than triple the number with four-copy paralogs. PacBio sequencing revealed duplication of known RXLR-class effectors as well as novel effectors, evidence for contributions of genome plasticity to pathogenicity.
Honolulu, October 31 - November 2, 2019
Carleson, NC, Press, CM, Grünwald, NJ. High-Quality, Phased Genomes of Phytophthora ramorum Clonal Lineages NA1 and EU1. Mol Plant Microbe Interact 2022; 35 (4): 360-363. PubMed PMID:35285670 .
Carleson, NC, Daniels, HA, Reeser, PW, Kanaskie, A, Navarro, SM, LeBoldus, JM, Grünwald, NJ. Novel Introductions and Epidemic Dynamics of the Sudden Oak Death Pathogen Phytophthora ramorum in Oregon Forests. Phytopathology 2021; 111 (4): 731-740. PubMed PMID:33021878 .
Carleson, NC, Fieland, VJ, Scagel, CF, Weiland, JE, Grünwald, NJ. Population Structure of Phytophthora plurivora on Rhododendron in Oregon Nurseries. Plant Dis 2019; 103 (8): 1923-1930. PubMed PMID:31140922 .
Search PubMed