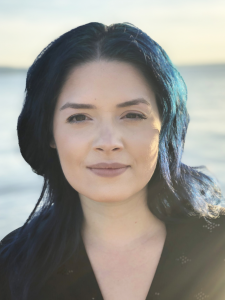 Elizabeth Delgado
University of Michigan
Ann Arbor, MI
Distinct Wnt Signaling Thresholds Required for Polyposis in the Proximal and Distal
Stomach
Familial adenomatous polyposis (FAP) is a genetic disorder characterized by the formation of precancerous polyps throughout the gastrointestinal tract. Polyps form in response to increased Wnt signaling caused by mutations in the adenomatous polyposis coli (APC) gene. The vast majority of FAP patient gastric polyps are benign growths located in the proximal corpus, with less frequent distal antral polyps more closely associated with gastric cancer. Given these stark differences in polyp localization and severity, we hypothesized that there is a regional sensitivity to Wnt signaling along the gastric proximal-distal axis, and that a 'just-right' level of Wnt signaling is required for gastric polyposis. To model gastric polyp formation in FAP patients, we used mice with an inducible APC loss-of-function mutation and studied gastric tissue responses one month after Wnt activation. We found that, where submaximal levels of Wnt signaling are sufficient to initiate growth in the corpus, maximal levels are required for antral hyperproliferation. Notably, 'high-Wnt' stem cells are retained in the antrum and lost from the corpus, suggesting maximal Wnt activation is unfavorable for polyposis in the proximal stomach. To gain insight into regional differences in Wnt response, we performed RNA sequencing on corpus and antral organoids following Wnt inhibition. Transcriptomic analysis revealed that many Wnt target genes have unique expression patterns in the corpus and antrum, which may be driving the differences observed in pathological settings. This work will help inform clinicians on FAP gastric disease by defining how APC mutations differentially drive polyp formation in the stomach.
SACNAS National Diversity in STEM Conference, San Juan, Puerto Rico, October 27-29, 2022
McGowan, KP, Delgado, E, Keeley, TM, Hibdon, ES, Turgeon, DK, Stoffel, EM, Samuelson, LC. Region-specific Wnt signaling responses promote gastric polyp formation in familial adenomatous polyposis patients. JCI Insight 2023; : . PubMed PMID:37943618 .
McGowan, KP, Delgado, E, Hibdon, ES, Samuelson, LC. Differential sensitivity to Wnt signaling gradients in human gastric organoids derived from corpus and antrum. Am J Physiol Gastrointest Liver Physiol 2023; 325 (2): G158-G173. PubMed PMID:37338119 PubMed Central PMC10393332.
Horita, N, Keeley, TM, Hibdon, ES, Delgado, E, Lafkas, D, Siebel, CW, Samuelson, LC. Delta-like 1-Expressing Cells at the Gland Base Promote Proliferation of Gastric Antral Stem Cells in Mouse. Cell Mol Gastroenterol Hepatol 2022; 13 (1): 275-287. PubMed PMID:34438113 PubMed Central PMC8599166.
Search PubMed