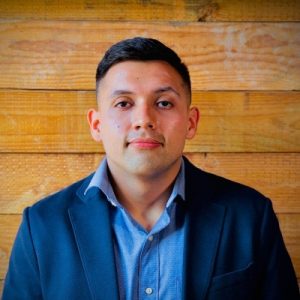 Omar Lujano Olazaba
San Diego State and University of California San Diego
San Diego, CA
The role of chemotherapy-induced fibrosis in the maintenance of tumor initiating
cells
Ovarian cancer patients initially respond to cytotoxic chemotherapy but most relapse with chemoresistant disease. Research over the years supports the notion that tumor-initiating cells (TICs), a subpopulation of drug resistant stem-like tumor cells, are responsible for facilitating relapse and therapies targeting these elusive cells may prolong remission. Alterations of the extracellular matrix that facilitate adhesion of TICs is poorly understood in ovarian cancer, particularly following chemotherapy. Our preliminary data shows that fibroblast activation in response to cytotoxic chemotherapy leads to changes in ECM composition. Using ex-vivo decellularized peritoneum tissues from mice exposed to chemotherapy or vehicle treatment, we observed a 2-fold increase in growth in peritoneums pre-exposed to chemotherapy. We further show that TICs have activation of NF-kB signaling that regulates expression of integrins known to preferentially bind to these ECM proteins. NF-kB is a family of transcription factors that respond to signals in the tumor microenvironment to promote proliferation, chemoresistance, and survival. Therefore, we hypothesize that alterations in ECM proteins following chemotherapy permits TIC adhesion and growth through NF-kB mediated integrin expression. To investigate this hypothesis, we will explore the ECM proteins that are critical for adhesion and growth of ovarian TICs, identify if chemotherapy enhances production of these proteins, and test the role of NF-kB in mediating integrin-ECM adhesion of TICs to different substrates. These studies will uncover interactions between TICs and ECM through their unique expression of integrins and clarify the role of different NF-kB transcription factors in regulating TIC survival via integrin signaling.
SACNAS National Diversity in STEM Conference, San Juan, Puerto Rico, October 27-29, 2022
Holmberg, R, Robinson, M, Gilbert, SF, Lujano-Olazaba, O, Waters, JA, Kogan, E, Velasquez, CLR, Stevenson, D, Cruz, LS, Alexander, LJ et al.. TWEAK-Fn14-RelB Signaling Cascade Promotes Stem Cell-like Features that Contribute to Post-Chemotherapy Ovarian Cancer Relapse. Mol Cancer Res 2023; 21 (2): 170-186. PubMed PMID:36214671 PubMed Central PMC9890141.
Robinson, M, Gilbert, SF, Waters, JA, Lujano-Olazaba, O, Lara, J, Alexander, LJ, Green, SE, Burkeen, GA, Patrus, O, Sarwar, Z et al.. Characterization of SOX2, OCT4 and NANOG in Ovarian Cancer Tumor-Initiating Cells. Cancers (Basel) 2021; 13 (2): . PubMed PMID:33445692 PubMed Central PMC7828139.
Search PubMed