We are two years deep into this pandemic thing, and some of us are beyond stir crazy.  As I have written long ago, Clevelanders love the arts.  On any given pre-pandemic day, it wasn't hard to find a concert offered by the Cleveland Orchestra or a ballet at Playhouse Square.  Oh, those were the days.
Mid pandemic arts and entertainment opportunities have been far and few between.  Most, if not all, live performances were cancelled beginning in March 2020.  Reopening theaters and music venues began in earnest in mid-2021 only to be put on pause again for the rise of Omicron over the US 2021 holiday season.
Bah hum bug.
Museums have also been hit hard by the pandemic.  The Cleveland Museum of Art cancelled its upcoming exhibits, including the planned 2020 exhibit Picasso and Paper.  What's an art lover to do?
Where can we go to fill this void?
Tell me, where can we Gogh?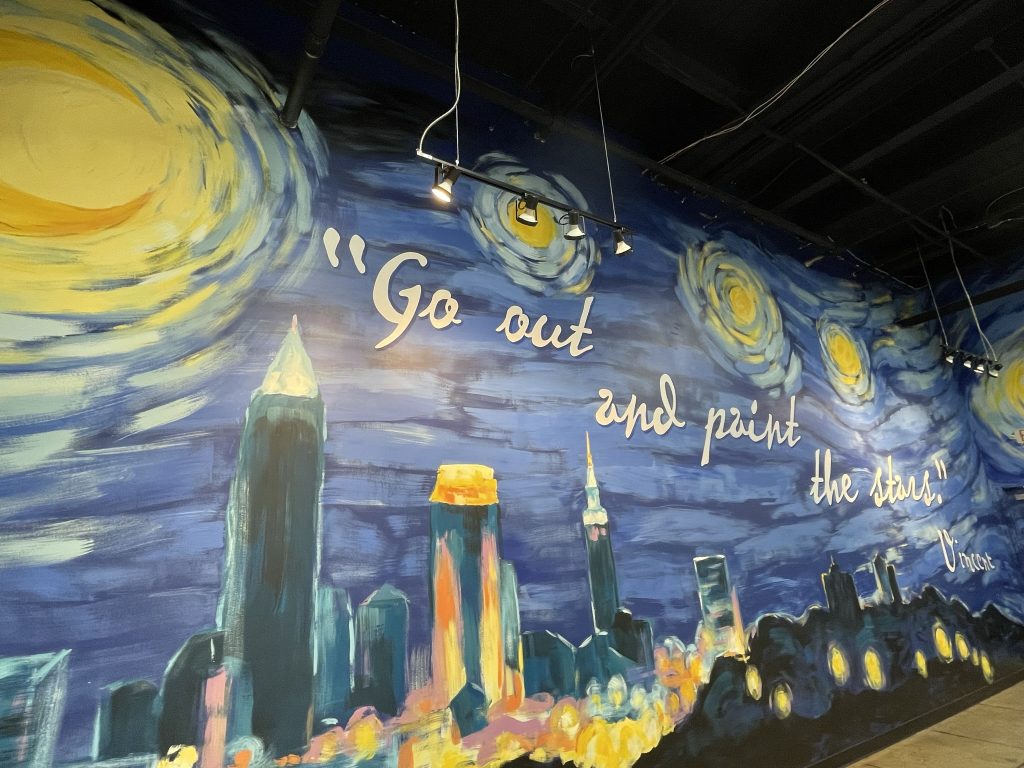 Well, if you engage with any social media and have been in Cleveland the last year or so, your posts have been littered with ads featuring the Original Immersive Van Gogh Exhibit.  Make no mistake, this exhibit is not organized by the Cleveland Museum of Art or any other art museum, for that matter.  Apparently, Van Gogh's works are no longer copyrighted, meaning they are ripe for creatives and entrepreneurs alike.  As the name of this Cleveland Van Gogh exhibit implies, it's not the only game in town featuring this short-lived but productive artist.  The "original" immersive exhibit was developed and featured in Europe before the North American tours, all of similar and confusing-when-buying-tickets names, were organized.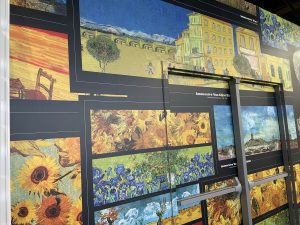 We originally bought our set of tickets for December 2021 in anticipation of the holiday company.  Unfortunately for us and everyone else on the planet, SARS-CoV-2 had other plans and the exhibit was closed the days we had planned to visit with family.  We finally re-scheduled recently to experience what everyone, or at least all the ads on our socials, was talking about.
If you are thinking about Goghing, a few words to the wise.  First, the tickets are expensive and the description of the exhibit itself is vague.  We weren't quite sure what to expect.  The exhibit is in the Lighthouse ArtSpace Cleveland, an industrial space on the east side that is kind of hard to find.  The little signs pointing to the parking (which you have to pay for, BTW) do not help (don't get my husband started about signage).  Once you arrive and you pay for that parking (while wondering why you need to pay extra for the parking), you are handed a cushion and told to enter the room.  Hmm.  The room is a very large space where a video of Van Gogh's artwork accompanied by moody music plays on a loop.  The floor is marked with spaced out circles, and you can take your cushion to sit on a bench (good luck finding an unoccupied one) or on the floor in one of the circles.  After you have had your fill with the video, you exit into the massive and expensive gift shop.
Yayoi Kusama:  Infinity Mirrors this is not.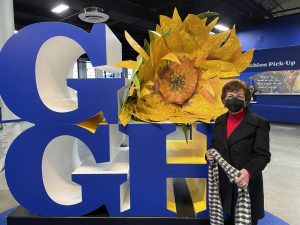 While this Van Gogh exhibit didn't exactly scratch our art itch, it did get us out of the house.  I wouldn't necessarily recommend it to others as it is very expensive for what you get.  But, if you are looking for somewhere to Gogh in the next few weeks and are curious, you better hurry–this exhibit is here in Cleveland through March 6, 2022 before it packs up and heads to its next city.